Case : CRE (controlled radial expansion) dilation of anastomotic colonic stricture.
At the end of the day while driving home, I called a surgeon colleague to thank her for taking care of a patient of mine.  During the conversation, she mentioned about a case of colon obstruction. On further prodding, she told me that the patient has had multiple prior surgeries and the CT scan show – distal colonic obstruction, air in the wall of the colon (pneumotasis intenstinalis). Based on her assessment, patient was a poor candidate for surgery and patient did not want surgery. I suggested to her that it might be amenable to endoscopic therapy.
              Next morning,  patient was rolled down to the endoscopy unit after receiving gentle (no pressure) water enema in the morning. On examination, his abdomen was tight and firm.  The room was filled up and had a nurse anesthetist, two endo nurses, radiology technician, fluro(x-ray) machine and colonoscopic equipment. After sedating the patient, I introduced the Pediatric colonoscope which has a smaller diameter and more flexible than regular colonoscope.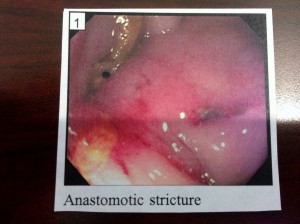 After flushing and suctioning the fecal matter : a pin whole opening was noted through which liquid stool was exiting.  In the image the opening represents the black dot over the yellow background.
I saw sliver of hope.
Through the tiny opening, under fluroscopic guidance the smallest CRE balloon was advanced, and dilated. The opening was stretched to 15 mm enabling us to advance a Pedi colonoscope to the cecum.
Picture of a inflated CRE balloon.
The size can range from 5 mm to 21 mm in diameter.
I dilated the CRE balloon with contrast for better visualization as evident in the image below: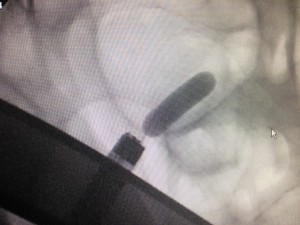 To help decompress the proximal colon segment a colon decompression tube was passed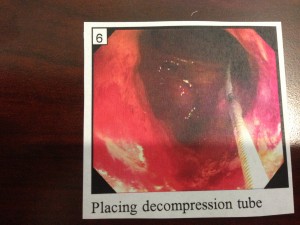 The image shows oozing of blood from the dilation and the guide-wire catheter traversing the  stricture. The colon dempression tube is advanced over this guidewire beyond the stricture.
Patient stayed in hospital for 2 more days with complete resolution of symptoms (pain, obstruction). He was maintained on miralax 3-4 times a day and liquid diet. He continued to be on full liquid diet for another week and saw me recently for another dilation to 21 mm, and advanced to soft diet. He has done well and calls the balloon – a Savior.