We all know that KIWI fruit has multiple health benefits which range from lowering blood pressure (good source of potassium), better sleep, preventing acne when mixed with lemon juice to decrease oil content in skin, better cardiovascular health, brain development, strengthening bones, prevention of cancer (because of its anti-oxidant properties), improves vision, Â boots immunity (high source of Vitamin C) and aids in Digestion.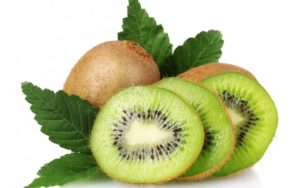 A recent Japanese randomized cross over trial compared the benefits of eating KIWI fruit to Fiber intake in patients suffering  from constipation and IBS. T
The study showed that consuming 2 KIWI fruit a day resulted in increase in number of bowel movements  and better quality of life. Patients with IBS reported less constipation, abdominal pain and indigestion.
The scientific reasoning is that KIWI is rich source of fiber that adds bulk to the stool in aids in good bowel movements. Â KIWI contains an enzyme Actinidain that helps in breakdown for protein and aids in digestion.
As a  practicing gastroenterologist I  encourage patients to use natural remedies for their constipation. This scientific trial proving benefits of KIWI fruit further cements my belief of avoiding chemicals and artificially manufactured drugs in patients with simple constipation, or IBS. Apart from KIWI, there are other natural remedies the can be beneficial for constipation. like aloe vera juice, green tea, papaya and so forth.
Recently, I have formulated Simply Biotic and Simply Biotic Plus – highest quality probiotics. It contains 10 strains of bacteria, and 25 Billion CFUs in Simply Biotic and 50 billion CFUs in Simply Biotic Plus. Â Simply Biotic aids in digestion, boosts immunity and provides complete digestive health.
Please contact me to help you achieve good GI health
Dr. Adi Malhotra
Office 281-557-2527
www.mygiclinic.com